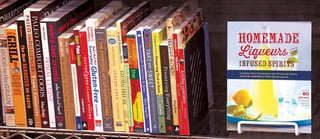 Whether you take sips or swigs, or are simply looking for homemade beverage recipes you can make and even gift through the holiday season, I've found another drink cookbook to guide you in creating your own infused spirits.
Read More
Tags: Recipes, DIY, cookbook, Book Review
As I was perusing Reedsburg, Wisconsin's 2014
Fermentation Fest
guide this past summer, I paused on a course description. "This is not your grandmother's sauerkraut!" proclaimed the write-up for the course
"Finding Your Inner Fermentista."
The description went on to talk about how the class would focus on fermenting vegetables beyond your typical cabbage-based ferments. This was intriguing to me as I had wet my fermenting whistle over the past four years making sauerkraut, kim chi, and curtido, all of which are cabbaged based ferments. I was interested in learning how to go outside of the cabbage box. This class taught by fermenting guru Kirsten Shockey seemed like the perfect fit so I signed up for the two hour course along with about 25 other eager fermenters.
Read More
Tags: cookbook