A BIG shout-out and thank you to the Viroqua City Council for approving the closure of 132 feet of Center Avenue directly behind the Co-op to allow for expansion. It's no small thing to close a city street, and VFC is grateful for the time and thoughtful consideration that both the Planning Commission and City Council gave to this matter. Members of the Council expressed the desire to keep VFC as an anchor business in Viroqua's downtown Main Street and we are happy to oblige!

Besides the great support VFC gets from 3,300+ members shopping (a lot!) at their Co-op, we can also see the need grow to alleviate some significant issues. We move $7 million in annual sales through three check-out stands! This is not only hard on our cashiers, but it makes it difficult for shoppers to navigate around those waiting in line. VFC's Deli, Bakery, Cheese and Meat Departments all work in a kitchen built for a $1,000 of daily volume and our current daily volume is averaging $5,000! Our sweet, but cramped seating area is limiting our ability to serve owners and draw new customers.
That's why we began two years ago to test the feasibility of growth. The significant amount of study and learning we've done, both operationally and at the board level, will pay off when it's time to make good decisions for the future of VFC.
SURVEY RESULTS
The scope of the expansion is still in the works; first we need to check our assumptions against how the owners feel about it with survey data. This response rate is the highest we've had to date (surveys, voting, ballots, postcard requests) in VFC history. Survey results are available on our website here.

It's important for us to study the professional analysis of the survey data to help us understand the needs and wants of our Owners. However, we did learn that 76% of our owners are in favor of expansion, 17% are neutral on the idea, and 7% oppose. This is fantastic support for the expansion and we can proceed to the next level of planning. Thank you for participating!

Send us your email to participate in expansion mini-surveys.
The VFC Board of Directors will conduct a series of mini-surveys on expansion via email. These will be specific to the areas, services, and departments of the Co-op that will improve with expansion.
If you received an invitation and link in an email for the Owner Survey, you are automatically included on the mini-survey list. If you aren't sure and you definitely want to participate, send an email to owner.email@viroquafood.coop and put "mini-survey" in the request line. We'll make sure you are added to the list.
It's Official! VFC finalized the purchase of the corner lot on Broadway and Center Avenue.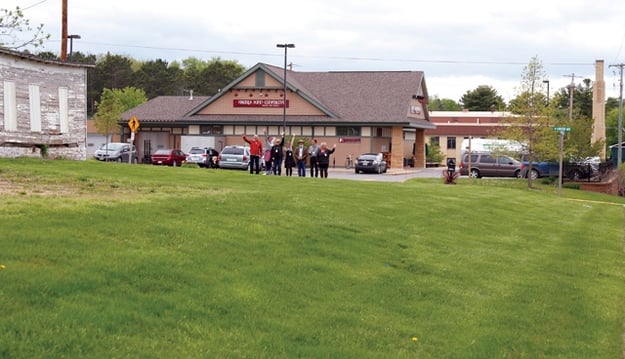 Pictured L to R: BoD Larry Homstad, Erin Murdock, GM Jan Rasikas, Laura Burnham, BoD Mike Link, BoD Peter Bergquist, Jackie Rebman