Sometimes people seek professions, and sometimes professions call to an individual. Cheesemaking found Brenda Jensen.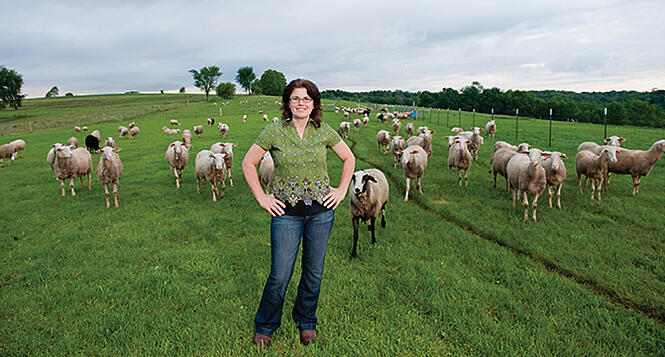 In 2001, Brenda and Dean Jensen took a leap and bought 50 sheep and started milking them. As is common with people getting into farming, they were milking sheep on the side and both working full time during the weekday. At first, the business was hard, and they weren't able to sell their milk locally. "We were selling our milk to a business in New York for yogurt. We knew we had great milk and wondered if we could hire a cheesemaker to make cheese for us," said Jensen.
In 2005, Brenda began investigating the cheesemaking industry and took a course through UW-River Falls. "I wanted to be able to speak the language to hire a cheesemaker..." On the third day of the course, Jensen's mindset changed as she learned the art of cheesemaking. "I loved the smell of the milk warming, cutting the curd and the magic of the whole process." She realized that she had a calling to be a cheesemaker.
Over the course of the next year, Brenda dove into the world of cheesemaking. She took vacation days to take more classes. Her employer thought cheesemaking was just a phase. But it wasn't. When she put in her notice, they offered to let her work three days a week and get full pay. She took her employer up on the offer, but it wasn't enough. She wanted to spend all her time running a farmstead creamery. Soon thereafter, she took the leap and became a full-time farmer and cheesemaker.
In 2006, Brenda and Dean moved their operation to their current farm between Cashton and Westby, Wisconsin. That same year, Jensen made her first retail cheese and her first customers were Viroqua Food Co+op and People's Food 
Co-op in La Crosse.
Fast forward 12 years and Hidden Springs Creamery has ridden a wave of success. The Jensens now have an on-farm creamery and about 700 sheep on their farm, half of which are milked throughout the year making cheesemaking possible every day. Their cheese offerings have grown to nine different types of sheep cheese, many of which we carry at the VFC, including:
Driftless: a soft spreadable sheep cheese that comes in a variety of flavors
Ocooch Mountain: an alpine-style raw sheep milk cheese
Bohemian Blue: a dry and crumbly sheep milk blue cheese
Wischego: a manchego-style cheese aged for six months
Feta: French-style sheep milk feta
A number of these cheeses have won Jensen awards from the American Cheese Society (ACS) and World Championship Cheese Contest over the years.
When it comes to creameries, Hidden Springs is very unique. By rough estimates, there are about 250 sheep milk dairy operations in North America (the majority are concentrated in Ontario and Quebec Provinces in Canada), which makes Hidden Springs a very unique type of farm business. Also, Hidden Springs is a farmstead creamery, which is a cheesemaking operation where the milk is produced and the cheese is made at the same farm. This setup allows cheese to be made more frequently and in smaller batches, which yields fresher and more delicious cheese.
Hidden Springs sells its cheese mainly to retail outlets in Wisconsin, Illinois and New York. "My goal is to sell all our cheese locally," said Jensen during a recent interview. Do your local cheese maker a favor. Support Hidden Springs Creamery next time you shop at VFC and try one (or all) of their cheeses.
To give you some ideas, Brenda shared some of her favorite ways to use her Hidden Springs Creamery cheeses:
I love to eat Driftless with fresh carrots or beets. Driftless also melts well. I love it on pizzas or with warm pasta.
Ocooch Mountain is very good with crackers or bread.
I love Bohemian Blue melted over a good steak, a burger or with crackers.
Feta really adds flavor to a greens salad or with paired with watermelon.