Whether you take sips or swigs, or are simply looking for homemade beverage recipes you can make and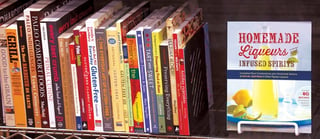 even gift through the holiday season, I've found another drink cookbook to guide you in creating your own infused spirits.
For those of you out there who enjoy "reading" your way through cookbooks, as well as learning about the science of food (and liquid of course), this is a MUST HAVE! Homemade Liqueurs and Infused Spirits is by Andrew Schloss, the author or coauthor of more than 15 cookbooks. In this book, Schloss found a totally genius way to give you the best of all worlds:
• the name of the drink each recipe imitates
• 1-2 short paragraphs about the science and/or history of the drink
• recipes that are either short lists of accessible ingredients or longer lists of equally easy-to-find ingredients
It is a cookbook for the visual learners, for sure, as it is also categorized per type of liqueurs: fruit liqueurs, vegetables, herb & spices, nut & seeds, floral liqueurs, coffee, tea and chocolate ones, creamy ones, caramel, syrup and butterscotch liqueurs, and general infused spirits that take alcohols to the most superior levels with a simple addition of 1-3 ingredients!
If you haven't already picked up a copy of Quench per my prior recommendation, you are in luck. Where some of the recipes in Quench may take a bit longer to marinate, Homemade Liqueurs and Infused Spirits encourages smaller batches and shorter consumption times. That means there's still time for you to get a few batches whipped up, bottled, and properly wrapped with a bow… Your holiday houseguests will stop asking "what's for dinner?" and get on to the more delectable question of "what's for drinking?" Go ahead – WOW them all!