The Viroqua Food Cooperative has a reputation for excelling in customer service, product knowledge, and genuine care for the community in which it serves. These standards are set by the Co-op, and executed by a very dedicated and vibrant group of employees.
Recently, the VFC conducted an owner's survey. While this survey addressed the store operations as a whole, some owners took the time to express their concern over staff treatment, compensation and benefits, longevity, cross-training, worker participation, and improving the internal working culture at VFC.
In my role as the Human Resource Manager it is essential that I address the needs of the employees. I am always looking for new and innovative ways to expand opportunities and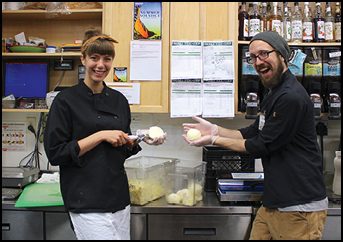 enhance our workplace for our employees. To hear those same sentiments echoed in owner comments from the survey reminds me of what a wonderfully unique Co-op community we have here.
Since 2008, VFC employees have participated in a staff satisfaction survey conducted by CDS, an independent consulting co-op. Though our scores were high to begin with, we have shown improvement with each survey. 153 food co-ops nationally take this same survey and our scores were among the highest. I will share specific results in future articles, but our consultant had this to report after the 2013 survey:
"The culture at VFC is one of caring, of cooperation and of pride in the organization. Staff members are glad to be a part of this important community asset in Viroqua. Staff expressed appreciation for the amount of autonomy that they have in their jobs, the flexibility and the relaxed atmosphere. These aspects of your culture are indicators of respectful relationships between adults."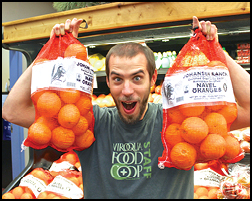 It's not only about the products, but also about the people who bring you the products. We constantly strive toward workplace excellence for our employees. I want to take this opportunity to share with you some facts about our employees and VFC's benefit package.
Over 62% of our workforce has been with the Co-op for 3 years or more.
Over 55% of our workforce is cross trained in other departments. This cross training has been essential for overall operations of the VFC. It provides employees with greater job satisfaction, and allows for diversity in their job.
We created new lead positions to address the growing needs of the VFC, and to provide our employees growth opportunities within the VFC.
When positions become available they are presented to the employees first in hopes that we provide upward mobility to current employees.
In 2009 the VFC implemented a group medical insurance plan for all full time employees (working 30 hours a week or more). The VFC contributes 75% of the employee's monthly premium.
To recognize the longevity in our staff we substantially increased PTO (paid time off) for employees who have worked at the Co-op five years or more.
Paid breaks. Any employee who works 6.5 hours or more in a shift receives a 30 minute paid break.
In 2012, we implemented a Flexible Spending Account for employees. The VFC contributes $100 to all full time and $50 to all part time employees.
Even during slower economic times, the Co-op was committed to offering meaningful wage increases. During last fiscal year, the average pay increase offered to employees was 6.5%.
Let us not forget the benefit we love the most… our food discounts! All employees receive 10% above cost on case purchases, and between 10% - 20% off all purchases in the store.
While I am pleased with the benefits we offer today, it is imperative that we continue to grow. In fiscal year 2013-14, we are implementing a 401K retirement plan, short term disability, and gain sharing opportunity through a program called Open Book Management.
While owners continue to support and grow the VFC, so will the employee benefit package. Other ways owners can acknowledge the staff that serves our community:
Donate a door prize to our annual staff party. The "Winter Blues Blowout Bash" is held in February to say thank you to the staff and their families for their dedicated work at the Co-op.
Donate a prize to the monthly employee "Caught in the Act" program. This is a peer recognition program that offers employees the opportunity to acknowledge other employees that go above and beyond the call of duty.
With sincere thanks for your patronage,
Alycann Whalen TaylorHuman Resource Manager