Incorporating more raw foods into your diet is easy to do in the summer since you can buy it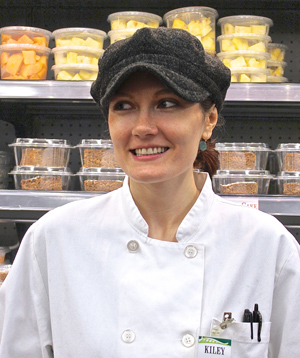 locally or grow & pick it yourself. This recipe is one of my favorites. It reminds me of Grandma & I in the garden, eating as we picked. The tomatoes & watermelon warmed from the sun... the combination & sweetness of the two really make this gazpacho a simple & refreshing meal. Enjoy!
Kiley McNulty, Deli Cook
Sweet & Spicy Summer Gazpacho
Serving Size: 4
Ingredients:
4 cups watermelon (seeded & puréed)
2 cups watermelon (diced small)
2 cups tomatoes (diced small)
1 ½ cups cucumber (diced small)
1 bell pepper (diced small)
2 tbsp lime juice
½ bunch cilantro
1 tbsp fresh ginger (minced)
1 jalapeno
2 green onions (minced)
Sea salt & black pepper (to taste)
Directions:
Toss all ingredients together in large bowl & puree half of mixture in Vitamix or blender. Then mix again until all is combined to your desired consistency. Serve chilled.